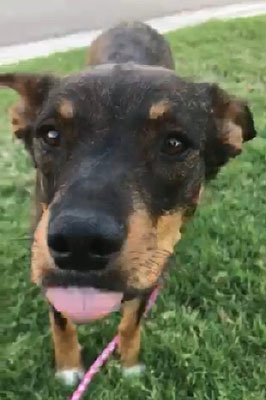 BOBO
Background: On June 23rd, we transported Bobo to The Complete Pet Animal Hospital because she was very ill and needed a full service vet. Her medical care was being covered by the Two Pups Wellness Fund.  Bobo was surrendered by her owner for being ill at which time volunteers found her covered in hundreds of ticks. While at the shelter she was found to be positive for tick fever and heartworm. The Tompkins family volunteered to foster Bobo fully aware that it would be a long recovery process.
Since receiving her, they have taken her to their vet, for peace of mind and to establish care in case of emergency as they live over an hour from shelter. While there, they got a complete estimate for continuation of her care, including a 2 night hospital stay during the worst part of the heartworm treatment.
Bobo is home recovering….it takes a village.