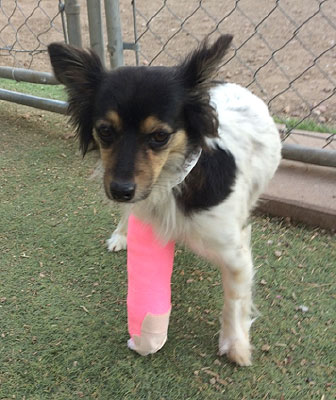 CARA
This sweet little doggie came in over the weekend and her owner was here to claim her on Monday. Apparently, the dog had been dumped on the I-10 Freeway by some friends or family of the owner's boyfriend …. Very sad story.
Cara's little leg was broken clean in half and the owner was so distraught that she actually collapsed in the shelter and the ambulance was called. She was ok physically but had no money, no phone, no ID, and no place to go.
Poor little Cara needed help asap and her owner would not be able to provide. Two Pups is able to step in when these situations occur. With limited resources at MCACC East, the only option for Cara would be amputation, but NOT TODAY! They delivered her to Pet Urgent Care and they saved her leg! She was all splinted up and is in pretty good spirits.
Cara was adopted immediately and is living a safe and happy life.