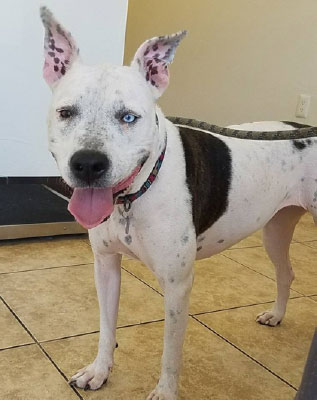 KELSEY
This is Kelsey's story. KELSEY KEEPS GETTING RETURNED DUE TO THIS PROBLEM. The vet said that she has a polyp and it needs to be removed. The vet also recommended getting her started on fiber supplements to prevent more polyps from forming, which she will need to take for the rest of her life. Two Pups agreed to cover the cost of this mass removal and fill a prescription for needed supplements. Kelsey did great and was returned to the shelter in great shape.
Kelsey is well-behaved and gentle.
9 days later… We received a thank you note from our Kelsey… I have copied the words to share with all:
"Kelsey was adopted 1 week after having her mass removed at Pet Urgent Care. Kelsey was an East shelter resident for more than three months. During that time, she was looked at by many potential adopters. I believe they were scared off by the mention of a mass. While in our care, she became a volunteer favorite and a playgroup regular.
She now has a great Dad and 2 fur siblings! THANK YOU"