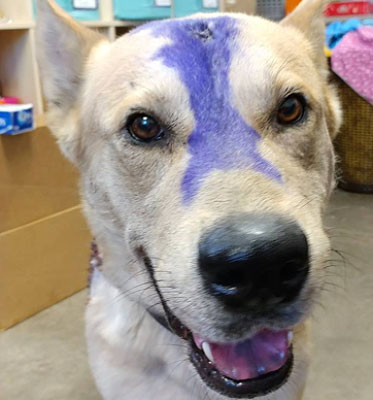 PORKCHOP
Imagine being cooped up all day in a back yard, bored and intrigued by all the noises, smells and sounds just outside the fence.  Maybe it was the bark of another dog, or the smell of food wafting on the air, or just plain boredom, but the urge was too great.  Two-year-old Porkchop jumped the fence and was hit by a car.  He survived, but with serious injuries.  His owners couldn't afford a vet bill so they tried to treat the wounds at home. When the task became too great, they relinquished him to Maricopa County.  With some basic care, Porkchop slowly began to improve.  But his painful injuries, the loss of his family, and the stress of suddenly being cast into a strange environment caused him to respond aggressively to any interaction with humans or dogs.  There was concern at the shelter that once healed, he would be difficult to place with his negative attitude. As a result, poor Porkchop was placed on the euthanasia list.
This would have been the end of Porkchop's story if not for one of Maricopa County's dedicated volunteers, who took the time and patience to get to know Porkchop. Slowly, he responded and grew to trust this volunteer. She soon realized that Porkchop was not aggressive or mean, he was just scared and in pain. This wonderful volunteer appealed to Two Pups and got the OK for medical treatment, and then found a foster for Porkchop, someone willing to take him into her home and care for him until he is healed.
Porkchop's future now looks bright and promising, thanks to the combined efforts of an incredible volunteer, a big-hearted foster mom, and a little help from Two Pups Wellness Fund.
Help us to create more happy endings for dogs like Porkchop by donating today. And stay tuned for updates on Porkchop.